Now you might be wondering why I am claiming to be skyblue (soy celeste = I'm skyblue). First off, let me assure you it has nothing to do with being blue. In fact it is one of the most popular chants you hear when attending a match of the Uruguayan soccer team. It refers to the color of their jerseys - celestial blue.
AItogether, I spent a very soccer oriented day yesterday. Initially I just planned on attending the FIFA World Cup 2014 qualifying match between Uruguay and Paraguay in the evening. But then Pablo took me to university to hand in my course enrollment paper at the international office, and since I planned on meeting some people at the University entrance in order to go to the stadium together, we had some time to kill until then.
Now since some sort of museum place of Pablo's favored team "Club Nacional de Futból" (short: Nacional) is located just down the street from the university, he decided I should check that out. Turns out it was the club's "hall of Fame" with lots of trophies that Nacional had won during their existence. And by lots I mean like a quadrillion. Or maybe even more. And they had won them in all sizes and shapes. There were some pretty huge ones that could actually pass as baptismal fonts and also some teeny tiny ones. One of the latter was my favorite. It was called the "Teresa Herrera" trophy and I do not know what it was for or anything but amongst others it had FC Bayern's logo on it. Which made it pretty awesome.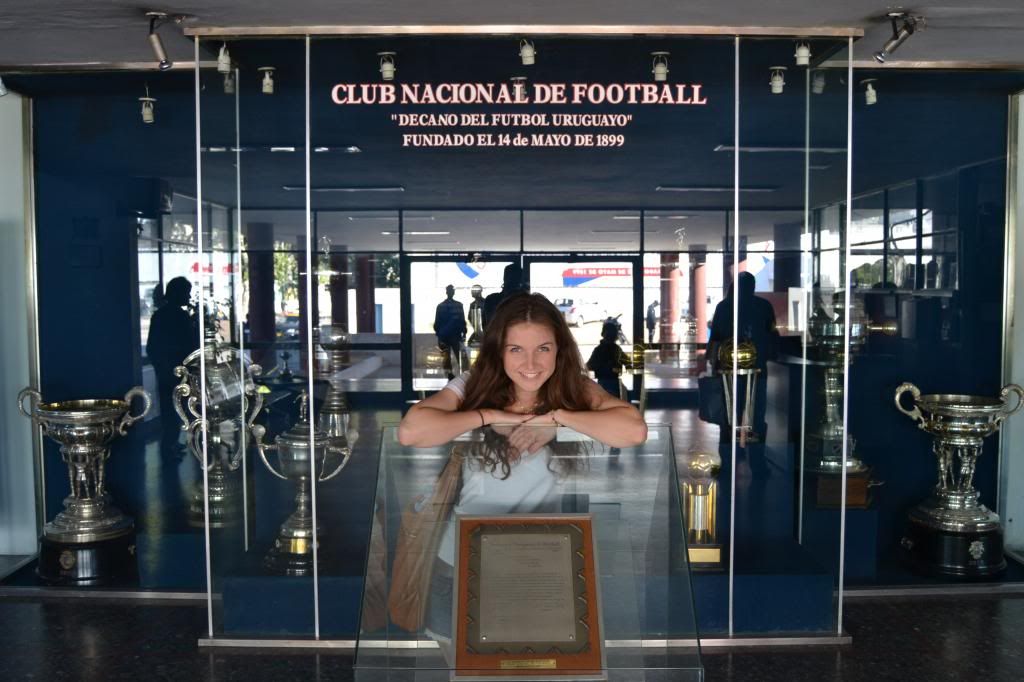 Business idea:
Let hardcore fans baptize their little ones in one of thos giant cups in the background!
The whole hall was lined with pictures of more or less famous players. None of which looked familiar to me. And there were also some other artifacts and important things like old footballs that probably still had dirt from the 1930s on them. And more trophies. I kind of liked the colorful vase-trohpy-things.


After that we went to Nacional's stadium which was just around the corner. And of course it was closed. But again Pablo played the "but she's German and needs to see this place"-card and of course we got in. And we were the only ones there so we had a whole stadium for ourselves which was actually kind of cool.


Hello, and welcome to my very own stadium!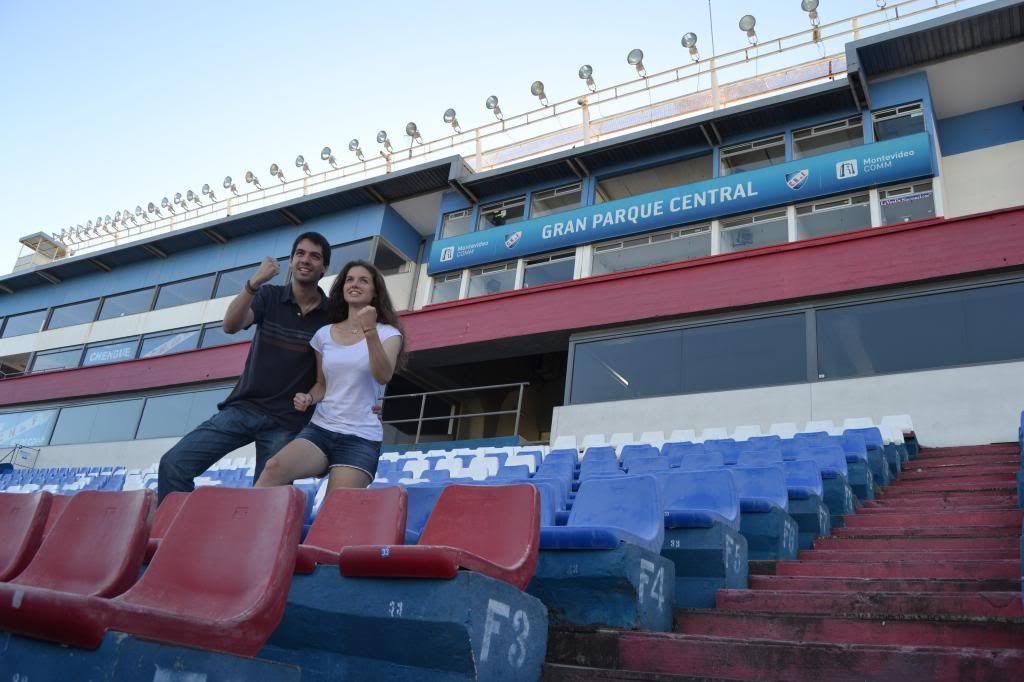 Watching imaginary soccer games
After visiting the stadium we went back to the university where I joined the exchange students and some others to go to the Estadio Centenario while Pablo went back to doing important stuff. Saving the world and all that. Haha. Just kidding he probably just went on skype and facebook because I think that's what he does for a living.
After a short walk our group arrived at the stadium which was still pretty empty. But it quickly got busier. Though not entirely packed because as Agustin told us they normally paused their regular soccer season for international games but not for this one. So there's gonna be other games this weekend which is why not as many came to see this match. Though it wasn't empty at all and if it had been a stadium of the size of the "Allianz Arena" in Munich, it would have probably been packed. So I'd say it was well-attended after all.


As customary, the game started out with the national anthems. First up, Paraguay. Whose anthem kind of sounded like the music in old Disney movies. Which I find is not a bad thing at all. After that it was Uruguay's turn to show us some tunes and I liked that one as well. And I also like the atmosphere at a sporting event when everyone is singing their anthem from their heart.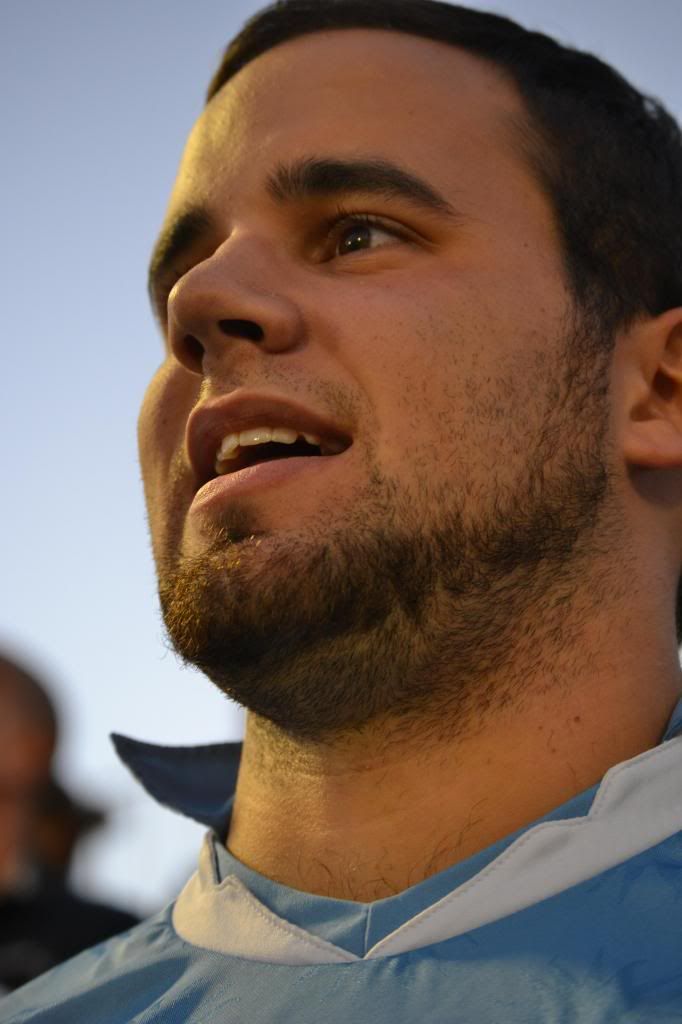 See that spark in Agustin's eyes when he was singin the anthem?
(Ok, maybe it's just the evening sun but I think it captures the mood quite well)
Then the game started and I gotta admit the first half was not very spectacular. Those Paraguayan wuzzes needed them paramedics quite often. Which is not to say that the Uruguayans played too aggressive because they didn't.
Unfortunately no goal here...
After a rather eventless first half, Sebastian and I set out to get some food during the break. Normally I guess that wouldn't be such an impossible task. Even if you don't go to the concession stand right away but rather wait a bit so we wouldn't have to wait in line as long. Anyway, close to the end of the break I got in line for some Chorizos which is some sort of sausage in a bun. And even though there were a lot of people who wanted to get food it didn't take me very long to get to the front. Because the second half was about to start, Sebastian went back to watch it and I thought I'd get some food and join him again soon. BUT we are in Uruguay and clocks tick a lot slower here. I soon found out that the problem was the lady who prepared the sausages. Instead of putting many on the grill she prepared them all individually. Now anyone who has taken a logistics class – and probably everyone else as well for that matter – knows that this is not the most effective way to satisfy a crowd of hungry people. And it wasn't. Many of the people in line left as more and more time passed. I didn't because I was very hungry and so close to getting food. But said food-lady didn't feel the need to hurry at all. And really who am I to blame her. But then after she gave the guy next to me his chorizo – and my hopes of getting food soon went up – she decided she would not give out any more food for the day and left me annoyed and hungry. I really wouldn't have minded the waiting. After all I have people waiting on me all the time. But Not giving me food when there obviously still was some left is just plain unacceptable. And if you are wasting my time because I could have been watching soccer instead of waiting for nothing that's even worse.
So naturally I wasn't very happy when I got back to the others but I soon forgot about it because soccer is a really good distraction. Now this half – or what was left of it for that matter – seemed to be quite uneventful at first like the previous one. My friend Agustin looked quite tense because of course we all expected Uruguay to win this game. And then after half an hour the relief: Uruguay scored the 1:0!
Pure joy swept the stadium and left us in a very ecstatic crowd. People were singing and screaming and waving their flags. I was happy again and almost forgot about the chorizos I didn't get to eat. But then after a couple minutes the big frustration happened. Paraguay scored and it was now a tie. What a bummer.
The last couple minutes we desperately hoped for another goal for Uruguay but we got disappointed. There were no more goals in that game and a tie as the final result. Not what we were hoping for and definitely not a good result because in my opinion Uruguay was the better team and would have deserved to win. But you can't always get what you want. That night I got none of the things I wanted. And I really only asked for a Chorizo and a Uruguayan victory.
But I guess I'm just too spoiled because usually life is pretty good around here. I am about to leave for a week of vacation because it's Semana Santa (=easter break) so on that note I am signing off for a week.


Happy Easter to all of you!